Hassle Free Financial Options

Insurance Friendly Office
We accept many insurance plans. If you aren't sure about your coverage, call us to ask! We'll even help file your claim.
Learn More >>

Dental Savers Plan
Perfect for the uninsured individual or family! Get the care you need at a discounted rate.
Learn More >>

Payment Options
We offer multiple flexible financing options and a 5% discount for those who pay in cash.
Learn More >>
Affordable Dental Care in Middletown, KY
One of our goals is to provide your family with the best and most affordable dental care available. We aspire to eliminate any financial burdens so that you and your family can receive the proper dental care when you need it. We are compliant with most insurance providers and accept American Express, MasterCard, Visa and CareCredit credit cards. We also offer flexible financing with our in-house dental membership plan and our in-house payment plan. So whatever your budget, we can help you achieve the healthy smiles you and your family deserve!
We accept most insurance plans. If you'd like to know if we are in-network with your plan, give us a call and ask!
Aetna
Anthem
Blue Cross Blue Shield
Cigna
Delta Dental
Guardian
Humana
MetLife
United Concordia
United Healthcare
Discount Savers Plan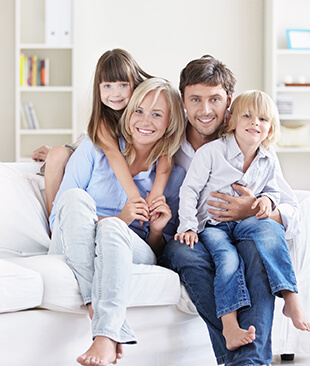 Are you one of millions of Americans living without dental insurance? Are you embarrassed to smile, but fearful of the cost to get your beautiful smile back? Are you living in pain, convinced that you can't afford to fix your teeth?
Middletown Commons Family Dental understands that it can be difficult to take care of your teeth without dental insurance. It can be even more difficult to care for yourself when you have a family that comes first. That's why we created the Discount Savers Plan (DSP). The Plan helps uninsured patients with their initial dental investment, and then keeps their yearly costs down. It provides a low-risk opportunity to see our office, meet our team, and get healthy again. Combined with our flexible payment options, the DSP makes it affordable for you to get the quality dental care you need!
How much can you save with the DSP?
Here's a sample chart showing savings on some common procedures and services.
| | Without DSP | With DSP | Savings!!! |
| --- | --- | --- | --- |
| Initial Exam | $87 | $0 | $87 |
| Initial X-rays | $241 | $0 | $241 |
| Whitening | $230 | $0 | $230 |
| Crown/Build Up | $1,386 | $970.20 | $415.80 |
| 1 Surface Filling | $180 | $126 | $54 |
| Cleaning | $90 | $63 | $27 |
| Yearly X-rays | $64 | $44.80 | $19.20 |
| Veneer | $1,122 | $785.40 | $336.60 |
| Back Root Canal | $1,020 | $714 | $306 |
| Invisalign | $5,500 | $3,850 | $1,650 |
How much is enrollment, and what does it include?
The yearly membership fee is $94 per individual. That initial fee includes a new patient exam, X-ray, and annual whitening as well as 30% off cleaning and treatments! Each year you enroll in the program thereafter, you'll continue to receive your annual whitening treatment and 30% off exams, cleanings, and treatments!
So how does this all add up for you?
| | | |
| --- | --- | --- |
| New Patient Exam | Cost $87 | DSP Savings of $87 |
| X-rays | Cost $241 | DSP Savings of $241 |
| Whitening | Cost $230 | DSP Savings of $230 |
| Regular Cleaning | Cost $90 | 30% DSP Savings of $27 |
Regular value of the new patient appointment and whitening = $648
New patient appointment and whitening with DSP = $157 ($94 DSP membership fee + $63 cleaning)
The DSP saves you $491 on your initial new patient appointment and annual whitening!
Contact us today for more information on enrollment!

(502) 631-9627
What about subsequent years? Is the yearly membership fee still worth it?
Let's take a look at the savings for a single person membership where no treatments beyond the regular cleaning, x-rays, exam, and annual whitening are necessary.
| | | |
| --- | --- | --- |
| Periodic Exam | Cost $49 | 30% DSP Savings of $14.70 Yearly $29.40 |
| Regular Cleaning | Cost $90 | 30% DSP Savings of $27.00 Yearly $54 |
| X-rays (once per year) | Cost $64 | 30% DSP Savings of $19.20 |
| Whitening (refills) | Cost $60 | Free with DSP |
Even after paying the membership fee, this person paid $68.80 less than she would have without the DSP. If she'd needed additional treatments, she would have saved 30% on each! If she'd enrolled her family, her potential savings would have been even greater.
The DSP is a great value for uninsured patients. Enrollment is easy! Call us today to get started.
Download our DSP information sheet.

Other Payment Options
CareCredit℠
We know that a lot of the time dental care is put on the back burner because you don't think that you can afford it. That's why we offer CareCredit℠, a financing option that allows you to break up the cost of your dental work into low monthly payments. These payments can be broken up into 6, 12, 18 or 24 month financing options with no interest. Call our office to find out more information.
In-House Payment Plan
Many families are able to afford the dental care they need when they're able to spread their payments out. Our in-house payment plan allows you to start with a 25% down payment, and then pay the balance off in four equal payments. We'll even be happy to set up automatic credit card or checking account payments for you so you won't need to worry about forgetting to send in one of your payments.
5% Payment Discount
Looking for more ways to save? Pay for your treatment in full with cash to receive a 5% discount off your treatment! This applies to every treatment, every time. In this day and age, it seems like nobody uses cash anymore, but you know what? We like it! We want to supply you with every opportunity to save any way we can, so if this option suits you, we would love for you to take it.
If you have any questions contact our office to talk about our many financing options!