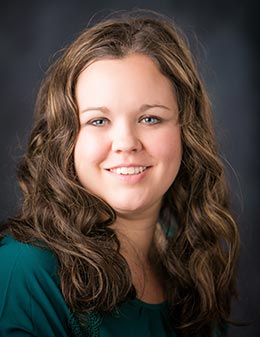 Doctor Laura Ward is a Louisville native. She loves her hometown so much, that she decided to stick around for her undergraduate and postgraduate studies! She received a degree in biology from the University of Louisville in 2005. She then remained at UofL to pursue her dental degree, which she earned in 2009.
Dr. Ward is passionate about dentistry. She's a lifelong learner who keeps up with the latest advancements in dentistry by attending more than the required amount of continuing education courses each year.  She prides herself on being one of the best family dentists in Middletown, KY.
She is certified in oral sedation, Six Month Smiles™ cosmetic braces, and Invisalign® clear braces. Most impressively, Dr. Ward takes pride in her ability to provide a level of comfort, quality, and convenience that her patients find refreshing!
When she's not in the office taking extraordinary care of her family of patients, you'll find her spending time with her real family: husband, Nick, and their three children: Anna, Gabe, and Jackson. Dr. Ward also enjoys crafts, reading, and taking on do-it-yourself home projects.
Welcome to Middletown Commons Family Dental
We are so glad you have chosen us as your dental care provider. At Middletown Commons, we pride ourselves in providing you with not only top quality dental care, but an excellent experience as well. I think you will find that our office is different from other dental offices you may be used to, and I wanted to take a few moments to give you an idea what to expect on your first visit.
First of all, at MCFD we have three core values that shape everything we do—Quality, Comfort and Convenience. My team and I seek to provide the highest quality dental care possible, utilizing the latest technology including highly esthetic crowns and fillings, digital x-rays, advanced early detection for tooth decay and short term orthodontic treatment. I am highly dedicated to increasing my skills and knowledge in the dental field and attend much more than the minimum required amount of Continuing Education courses each year. We want you to be comfortable when you visit us—starting from the moment you walk in the front door. You will find our waiting room looks more like your living room than the typical medical facility. Our friendly staff will be waiting to greet you and offer you a coffee or cold beverage and introduce you to our other amenities, including TVs in the treatment rooms, cozy blankets in case you get chilly, and a warm, scented towel to wipe your face after treatment. Our commitment to comfort doesn't stop there—we also offer several sedation options if you would prefer to be even more relaxed during your dental treatment. Lastly, we seek to make your visit as convenient as possible by offering early morning, evening, and weekend hours to accommodate your busy schedule, as well as a multitude of payment options to make your treatment affordable.
When you visit us for the first time, our friendly staff will greet you and show you around the office and register you, including collecting your insurance information. One of our friendly dental assistants will promptly escort you into the treatment rooms for any necessary x-rays and photographs. Please allow a full hour for this initial appointment, as I like to have time to have an in-depth discussion with each patient about their dental needs and treatment options. Depending on your treatment needs, we will also plan to clean your teeth at this initial visit.
My team and I are very much looking forward to meeting you! If you have any questions prior to your appointment, don't hesitate to contact us and one of my friendly staff will assist you in any way possible. We look forward to keeping you and your family smiling!
Sincerely,
Dr. Laura Ward
Call Middletown Commons Family Dental today to schedule your appointment!
Contact Us
Meet Our Team
Connie Wright, EDDA
Connie graduated from ATA College in Louisville with a degree in dental assisting, and she received certificates in Delegated Duties and Coronal Polishing from the University of Louisville School of Dentistry. At Middletown Commons Family Dental, she enjoys helping our patients feel comfortable and relaxed.
Connie enjoys spending time with family and attending her four children's sporting events.
Jennifer Nale, Office Manager
Jennifer was born and raised in southern Indiana. She received a degree in Business Management from Indiana University Southeast. She enjoys attending her daughter Addyson's sporting events, spending time with her family, and following Kentucky basketball.